Learn how to install Safetica NXT on endpoints with Windows and macOS and check its status afterwards.

After adding a new cloud customer in Safetica HUB, you need to install Safetica NXT to the endpoints you want to protect:
From Safetica HUB, open Safetica NXT by clicking in the Actions column of the respective customer.
To download Safetica NXT installer, click either the Get started! button on the Dashboard or the Download installer button in the Endpoints section.
You can install Safetica NXT to endpoints with both Windows and macOS.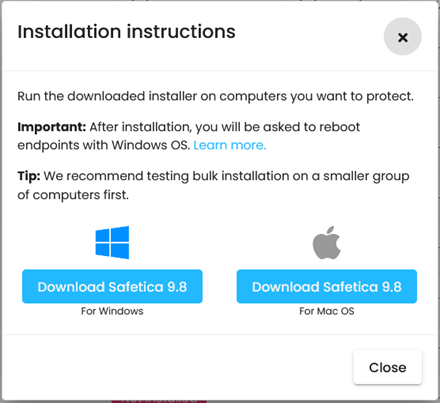 3. You can install Safetica NXT manually to individual endpoints, or you can batch install it to multiple endpoints using GPO.
For Window systems: After installation is finished, you will be asked to reboot the endpoints.
Checking the status of Safetica NXT
You can see the status of Safetica NXT on enrolled endpoints in Endpoints > Endpoint overview table > Safetica status

. Issue-related states are red, deployment-related states are blue, and the error-free "Active" state is green:
Safetica status Description
| | |
| --- | --- |
| | The installation process hasn't finished yet. Safetica NXT installer is installed on the endpoint, but it still needs to automatically download the whole installation package and install and configure necessary components. |
| | The installer failed to install and configure Safetica NXT. |
| | Update of Safetica NXT failed on the endpoint. |
| | Uninstallation of Safetica NXT failed on the endpoint. |
| | Safetica NXT isn't responding. |
| | Unspecified issue with Safetica NXT on the endpoint. Please collect troubleshooting info and contact Safetica Support. |
| | Safetica NXT is deactivated. |
| | Endpoint is waiting to be rebooted. |
| | Safetica NXT is outdated on the endpoint and an update should be performed. |
| | Uninstallation of Safetica NXT is in progress. |
| | Activation of Safetica NXT is in progress. |
| | Deactivation of Safetica NXT is in progress. |
| | Update of Safetica NXT is in progress. |
| | Restart of Safetica NXT is in progress |
| | Safetica NXT is collecting debug logs from the endpoint and storing them in Azure. |
| | |
| --- | --- |
| | Installation and configuration of Safetica NXT is in progress. |
| | Safetica NXT is running without errors on the endpoint (i.e. the endpoint has sent logs in the last 5 days). This state does not refer to the technical state of endpoint, nor to security issues. |
Want to learn more? Read next:
How to troubleshoot endpoint issues