Install Apple Configuration Profiles on your macOS endpoints to simplify permission configuration necessary for Safetica.
Apple Configuration Profiles contain the system permissions necessary for the smooth functioning of Safetica on macOS endpoints.
Apple Configuration Profiles can only be distributed and installed via MDM (Mobile Device Management).
Reasons for installing our signed Apple Configuration Profile:
To streamline the functionality of Safetica
To ensure the correct functioning of file audit and get the necessary logs
To read data from the system and apps (such as URLs of visited websites)
To enable user notifications and alerts
To solve this issue with Safari and Chrome (repeated requests to allow web audit are shown to end user)
It is possible to set the necessary permissions on macOS manually without the profile in a window that appears after Safetica installation. This may, however, lead to repetitive pop-ups in web browsers that are not user friendly.
With configuration profiles, this issue does not happen.
To install an Apple Configuration Profile:
Have Safetica Client installed on the endpoint.
Download the Apple Configuration Profile signed by Safetica here.
Distribute the downloaded profile to endpoints via an MDM solution of your choice.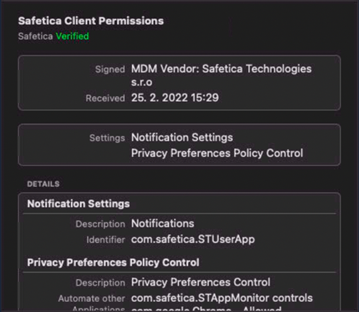 If you need a free MDM to distribute the signed Apple Configuration Profile, try:
jumpcloud (free for up to 10 devices and users)
Other MDM solutions you can use: