Learn how to collect troubleshooting info from selected endpoints and report issues to Safetica Support.
In Safetica NXT, all troubleshooting info from problematic endpoints is collected and stored in Azure cloud storage. You will only receive an identifier that you need to share with Safetica Support as part of your support ticket.

To troubleshoot an endpoint:
Go to the Endpoints section.
Find the respective endpoint in the Endpoint overview.
In the Actions column, click and select Troubleshoot . This will initiate troubleshooting info collection from that particular endpoint into Azure.
Collection may take some time, since the amount of troubleshooting info is quite large. Progress is indicated by a spinner.
For endpoints where troubleshooting info has never been collected, the link icon is greyed-out and inactive. Once collection is finished,

becomes active and the date of last collection appears next to it

. This way, you can tell at first glance when you last troubleshooted an issue on that particular endpoint.
5. Click the activated

to display more details along with the identifier of the processed troubleshooting info.
6. Copy the identifier to clipboard by clicking

.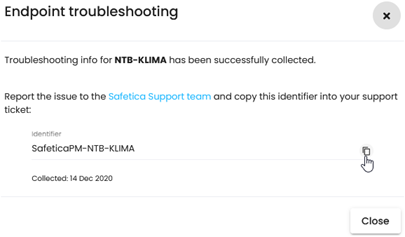 7. Click the Safetica Support link and create a new support ticket.
8. Paste the identifier into the support ticket along with further description of the issue and submit it to Safetica Support.