Learn how to collect troubleshooting logs from selected endpoints and report issues to Safetica Support
Troubleshooting in Safetica NXT allows you to collect crucial system logs from a selected endpoint to help analyze the root cause of a problem. Collected troubleshooting logs are stored in Azure cloud storage. You will only receive a link that you need to share with Safetica Support as part of your support ticket.

To troubleshoot an endpoint:
Go to the Endpoints section.
Find the respective endpoint in the Endpoint overview table.
In the Actions column, click and select Troubleshoot .
You can choose to either: a. collect existing logs into Azure
b. activate Enhanced logging for that particular endpoint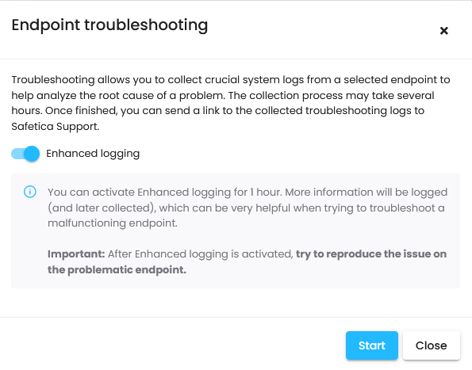 Enhanced logging is activated for 1 hour. More information will be logged during this time, which can be very helpful when trying to troubleshoot a malfunctioning endpoint. After 1 hour, the system will automatically start log collection into Azure.
If you activate Enhanced logging, you must try to reproduce the issue on the problematic endpoint.
4. Log collection may take several hours. Progress is indicated by a spinner.
For endpoints where troubleshooting logs have never been collected, the

icon is greyed-out and inactive. Once log collection is finished,

becomes active and the date of last collection appears next to it

. This way, you can tell at first glance when you last troubleshooted an issue on that particular endpoint.
5. Click the activated

to display more details along with the link to the processed troubleshooting logs (archived in Azure).
6. Copy the link to clipboard by clicking

.
7. Click the Safetica Support link and create a new support ticket.
8. Paste the copied link into the support ticket along with further description of the issue and submit it to Safetica Support.