This article describes new products in Safetica portfolio that have been introduced in version 9.8.
Safetica 9.8 brings many new changes to the structure of our product portfolio that make it easier for companies to tailor Safetica to their own environments and scenarios and purchase only those features that they truly need. The increased scalability of our portfolio also helps customers to "start small" and add more features as their business and their needs grow.
Our Safetica solution is now divided into three core products: Safetica Discovery, Safetica Protection, and Safetica Enterprise. Besides these, we also offer two optional extra modules: Safetica UEBA and Safetica Mobile that expand the features available to their respective use cases. Safetica UEBA focuses on users and their activities and Safetica Mobile on protecting mobile devices.
Please note that the features offered by Safetica UEBA might differ based on market and regional legislation specifics.
OLD PRODUCT

NEW PRODUCT

Safetica Auditor

Safetica Discovery (+ Safetica UEBA)

Safetica DLP

Safetica Protection (+ Safetica UEBA)

Safetica Enterprise (+ Safetica UEBA)

Safetica Mobile

Safetica Mobile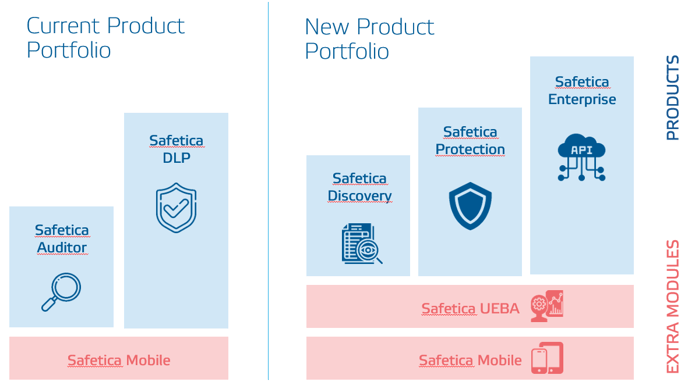 We also offer alternatives for Safetica Supervisor features. You can learn more about Application control and Web control here and about Print control here. If you are still using this legacy module, however, you can find information about it in this article.
Comparison of our new products can be found on our website.
You can read more about our new licensing here.
Safetica products
Safetica Discovery
Knowledge is the first and most important step in protecting your company and preventing internal threats. Discover the flow of sensitive data with deep content inspection and get a quick overview of all activities in your company. Analyze internal risks and understand what is happening on any platform in real-time.
With Safetica Discovery, you can:
Audit and classify your sensitive file dataflow in any channel or activity.
Perform file content inspection with pre-defined templates.
Gain a privacy-driven activity overview of web and app usage.
Objectively analyze activities in your environment.
Use records of operations with sensitive files to determine accountability during audits and investigations.
Enjoy multiplatform support, even for terminal servers.
Simply integrate with Office 365.
Gain insight into regulatory compliance incidents in your company.
Get powerful and automated reports about your company perimeter.
Get real-time security alerts delivered to your inbox.
Determine if your company equipment and network are used properly.
Eliminate unnecessary and expensive software, hardware, and cloud services.
Easily upgrade to the full-suite security platform.
Safetica Protection
Complete, all-in-one data protection solution to easily secure all critical data and maintain compliance with legal regulations. Designed for businesses of all sizes with a seamless and centralized management system. Avoid financial losses and damage to your company's reputation. Empower your users and protect critical company assets with a cloud-ready multiplatform data protection solution.
With Safetica Protection, you can:
Use all the features available in Safetica Discovery.
Ensure platform-independent protection wherever users and data interact.
Set up clear security rules and policies to protect all kinds of data from leaving your company.
Deploy basic security policies easily and with respect for business-as-usual.
Protect files even when users are working remotely or offline or are connected to a terminal server.
Create shadow copies of files that triggered an incident.
Gain complete control and visibility of data flow in cloud applications.
Define your workspace perimeter using powerful Safetica Zones to categorize your external devices and other company assets.
Encrypt hard drives or USB flash drives with BitLocker technology to protect stored data.
Synchronize Safetica SSL inspection with your network appliance.
Safetica Enterprise
Complex data protection solution designed for businesses of all sizes with specific needs, complex environments, or in need of automation. Seamlessly fit Safetica into your ecosystem thanks to automated third-party integrations.
With Safetica Enterprise, you can:
Use all the features available in Safetica Protection.
Enforce company processes and control how users work with workflow control policies.
Synchronize with more than a single Active Directory domain.
Automate security integration with FortiGate network appliances.
Send records of security events to your SIEM or syslog server.
Use your own company logo in Safetica endpoint notifications.
Safetica modules
Our two extra modules - Safetica UEBA and Safetica Mobile - expand your Safetica solution to cover even more use cases:
Safetica UEBA
Safetica UEBA (User and Entity Behavior Analytics) brings capabilities focused on user activities and insider threats. It deepens your overview of dangerous and undesirable user activities, so you can identify hidden security risks and avoid wasting resources. To learn more about Safetica UEBA, have a look here.
With Safetica UEBA, you can:
Perform user activity audit.
Find out to what extent are company resources used for work-related purposes.
Get an overview of social media and job portal visits to reduce the risk of data leaks.
Gain insight into incoming and outgoing email communication.
Get regular reports and real-time alerts about user activities.
Get an overview of what applications are used and what websites are visited by specific users.
Please note that the features offered by Safetica UEBA might differ based on market and regional legislation specifics.
Safetica Mobile
Safetica Mobile is our Mobile Device Management (MDM) solution focused on securing mobile devices. It allows you to remotely manage these devices and enforce various security policies. It is available for both Android and iOS devices.
With Safetica Mobile, you can:
Discover security risks on mobile devices.
Set up flexible security policies for mobile devices.
Control app settings and behavior.
Utilize Android EMM (Enterprise Mobility Management) and iOS Managed Apps to separate workspace from private apps and data on mobile devices.
Find lost devices with location tracking.
Remotely wipe stolen mobile devices.
See how your team is doing with the Team Mood feature.
Audit incoming files on Android devices.
Licensing of new products
The new products and their licenses (i.e. Safetica Discovery, Safetica Protection, and Safetica Enterprise) cannot be combined, so you cannot have e.g. Safetica Discovery and Safetica Protection in one environment. All the products, however, can be combined with the Safetica UEBA and Safetica Mobile modules.
Backward compatibility – older licenses (Safetica Auditor, DLP, Supervisor, Mobile, Forensics) will continue to be valid even after a new product license is added. They will be removed only after expiration.
Seat count – if you use both endpoints and terminal servers in your environment, the higher number will be used to determine seat count.
Start of validity – changes brought by a license are applied to the product only after the start-of-validity date. When switching from a trial to a full license, you have to wait for this date to use all the features it offers. Similarly, if you downgrade to a lower edition, you will not lose your advanced features immediately.
End of validity – when a license expires, you will not be able to see new data, and alerts and reports will stop working. When Safetica UEBA expires, its features will not be available anymore in Safetica Management Console and in WebSafetica.
Downgrade to Safetica Discovery – drives and devices are decrypted, and all recovery keys managed by Safetica can be exported. All DLP policies and data categories are removed. If you later decide to upgrade to a higher edition again, the data categories can be restored. Configured sync of email DLP policies with Exchange Online is disabled. If the UEBA module is disabled, Web control and Application control are removed.
Downgrade to Safetica Protection – policies for application categories are removed. Rules for local paths, exclusive access, and other network connection are removed. Configured FortiGate integration is removed and Safetica settings are deleted from integrated FortiGate server.