See the context to data that leave your company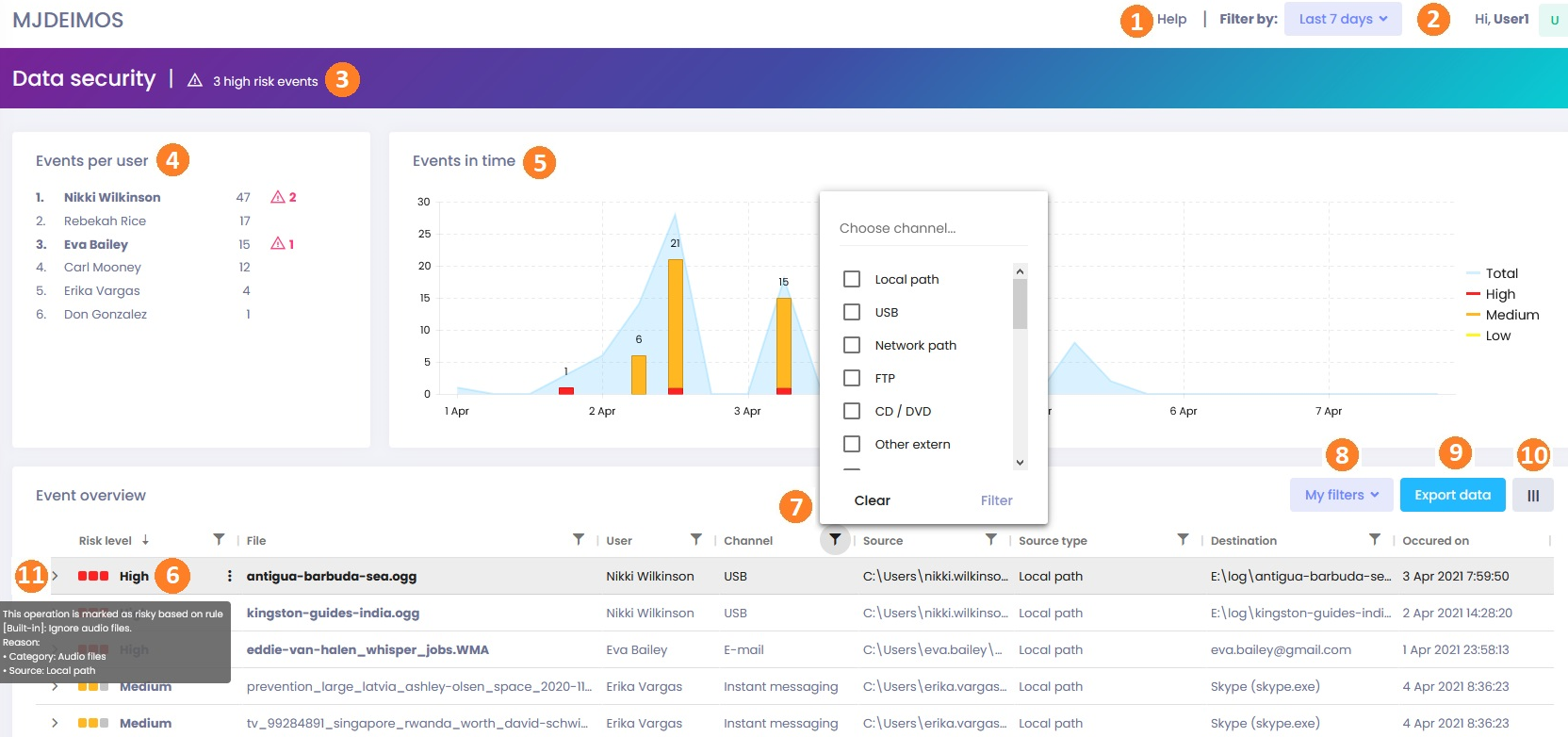 The Overview section in Data security focuses on providing details about outgoing file transfers from endpoints with installed Safetica. Since users may perform hundreds of such operations every day, Safetica determines which of them might cause data leaks and highlights these as risky events. When the admin filters high-risk events, they can see filters that need their attention with the highest priority.
In Data security - Overview, you can:

open Safetica documentation

choose the time range for which to display events on the page

click this link to filter high-risk events in all the three main elements on the page – the Event overview table, the Events per user table, and the Events in time chart

see who initiated the most file transfers and how many of them were risky. Black numbers indicate the total number of events initiated by that particular user; red numbers indicate how many of them were high-risk.
Click the red number to filter high-risk events initiated by that user in all the thee main elements on the page.

see how the number of total and risky events changed in time. You can filter low, medium, or high-risk events by clicking the legend on the left side of the chart.
You can change time range right in the chart - just click on the starting point of your desired time range and then drag the mouse all the way to the finishing point.

see the specific reasons why an event was classified as risky - just hover the mouse on the risk level

of that event

filter records to discover and investigate risky events. You can apply several filters at once.

store your own custom filters under a name. You can then use these custom filters to only display information you are interested in. There are also several default filters available in the My filters drop-down, so you can investigate important issues faster right after deploying Safetica.

download records as an .xlsx file

add or remove columns in the Event overview table

see the details of an event by clicking the little arrow on the left.
The details always contain info from columns that are not selected in the Event overview table.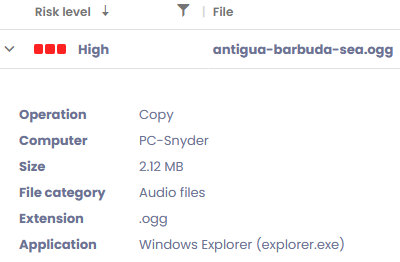 Want to learn more? Read next:
How to filter high-risk events