The following article provides a products overview developed by Safetica a.s.
Safetica ONE
Safetica ONE is an all-in-one data security solution designed for the scalability and needs of SMBs and enterprises. Get your valuable data under control with a great time to value. Go beyond data loss prevention with holistic behavior analysis to detect insider threats and respond even before they turn into incidents. Leverage insights into company workspace, digital assets, and operations to optimize costs.
Implementation requirements:
The architecture requires a physical or a virtual Windows server where Safetica server-side services are installed. You can also take advantage of the AWS and Azure services. For Azure, it's possible to get pre-configured instances directly from the marketplace: Safetica in Azure Marketplace.
With these services in place, administrators will obtain a Safetica Agent which is deployed via GPO or any other tools with a deployment feature. The Agent will establish the connection in-between the Safetica server and workstation allowing you to deploy and maintain the second package "Safetica Client" from our console. The Safetica Client then brings all the solution monitoring and protection features based on your license type.
The whole summary can be found in this datasheet.
Are you interested in more technical details like HW/SW requirements and product implementation? Proceed to our dedicated section in the KB. SAFETICA ONE - Home Page
---
Safetica NXT
Safetica NXT is a next-gen SaaS (Software as a Service) DLP with very fast deployment and low maintenance. It enables early discovery and mitigation of potential data security threats and data flow risks in your organization. This cloud-native DLP helps you protect sensitive data, set guidelines for its handling, educate your employees, and support regulatory compliance.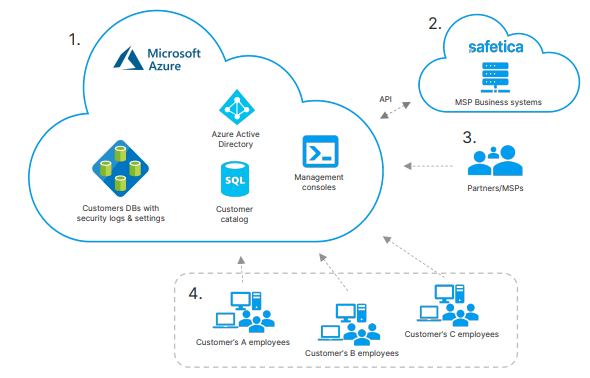 Implementation requirements:
Unlike Safetica ONE, the Safetica NXT is a SaaS-based solution with server-side ready out of the box. Once you gain access to the NXT console, you will download a pre-configured Safetica Agent that needs to be deployed using your tools, and when installed, it will automatically download and install Safetica Client which then brings all the monitoring and protection features.
The whole summary can be found in this datasheet.
Are you interested in more articles about NXT product implementation and features? Proceed to our dedicated section in the KB. SAFETICA NXT - Home Page
---
Not sure which solution might be the best fit for you? Reach out to your local Safetica distributor: Find implementation company (safetica.com)