Learn more about the contents of real-time email alerts triggered by risky events
A received email alert gives the admin basic context to a risky event that happened in a particular company, such as: in which company was the event detected, when, by whom it was initiated, or what were the reasons for the event to be considered risky.
Detailed info can be displayed by clicking the See more details button. You will be forwarded into Safetica NXT where the specific event will be pre-filtered for closer investigation.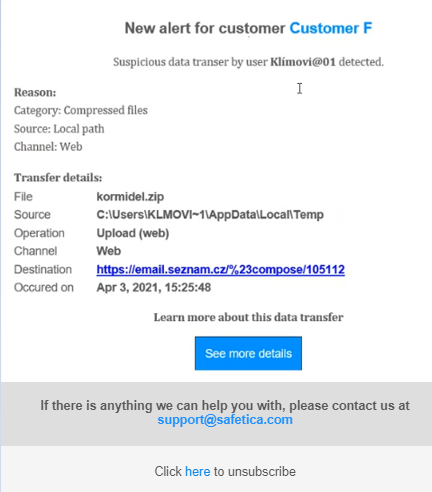 In Safetica NXT, you can also change the risk level of the event to either Safe or Risky or export the event.
Want to learn more? Read next:
How to unsubscribe from email alerts
How to create a detection rule from the event overview table
How to create a detection rule