Our ultimate goal is to unify all the classification technologies we have previously used in our products into one simple-to-use concept and make our data classification more robust.
In this article, you will learn:
What is Safetica unified classification?
Safetica unified classification is our innovative concept that redefines the way we work with data classifications and enhances both security and user experience. It will utilize all kinds of info we know about individual files. Instead of only evaluating one aspect at a time, we will consider many more pieces of information stored during the data's lifecycle. It will make our DLP more robust and further improve risk assessment. The technology will be platform-independent, i.e. it will work with varied data storages such as clouds, network shares, Google drive, or macOS endpoints. It will also allow info synchronization between multiple endpoints. The end-goal is to collect info and provide protection like this: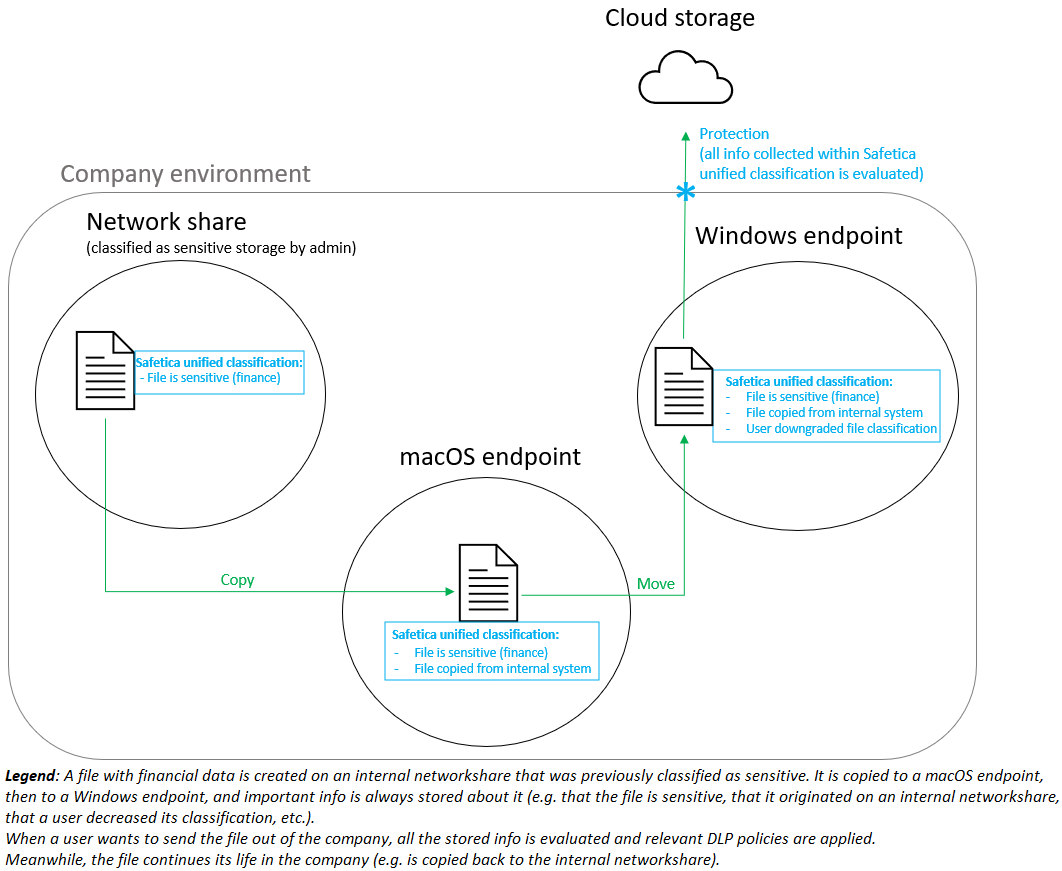 The unification process – present and future
Since the creation of Safetica unified classification is a very extensive process, we must proceed gradually.
Benefits that work in Safetica ONE 11:
Safetica unified classification unifies all the file classification technologies we have used previously (i.e. sensitive content, context rules, and file property classifications) into one simple-to-use concept. A single data classification can mix various elements and technologies.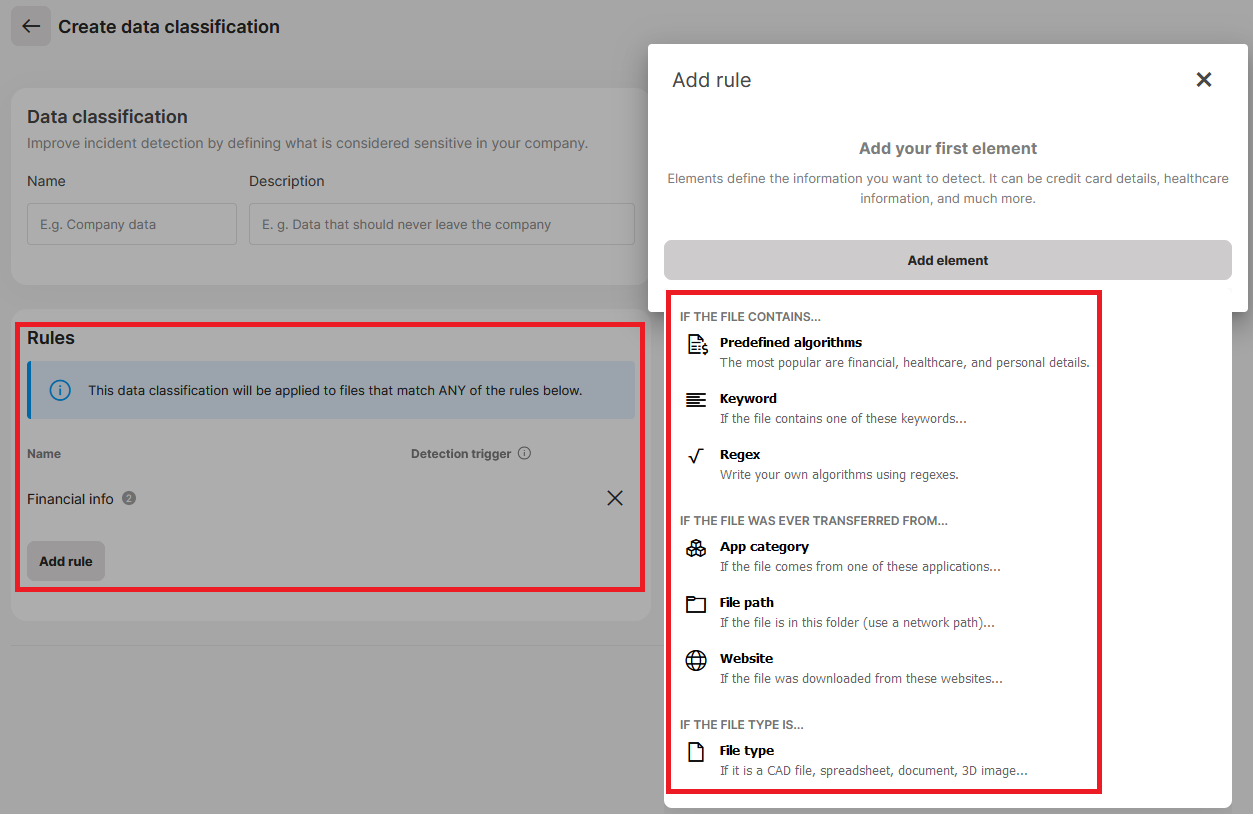 There is no priority among data classifications. All of them are evaluated and protection is determined by applicable linked protection policies and their priority.

Protection policies specify the behavior for any number of data classifications - you no longer need to create a special policy for each classification. If a user specifies several data classifications in a policy, the policy applies to ALL of them. The relationship is "OR", not "AND" as it was in Safetica 10 (the AND relationship can be managed within the data classification configuration).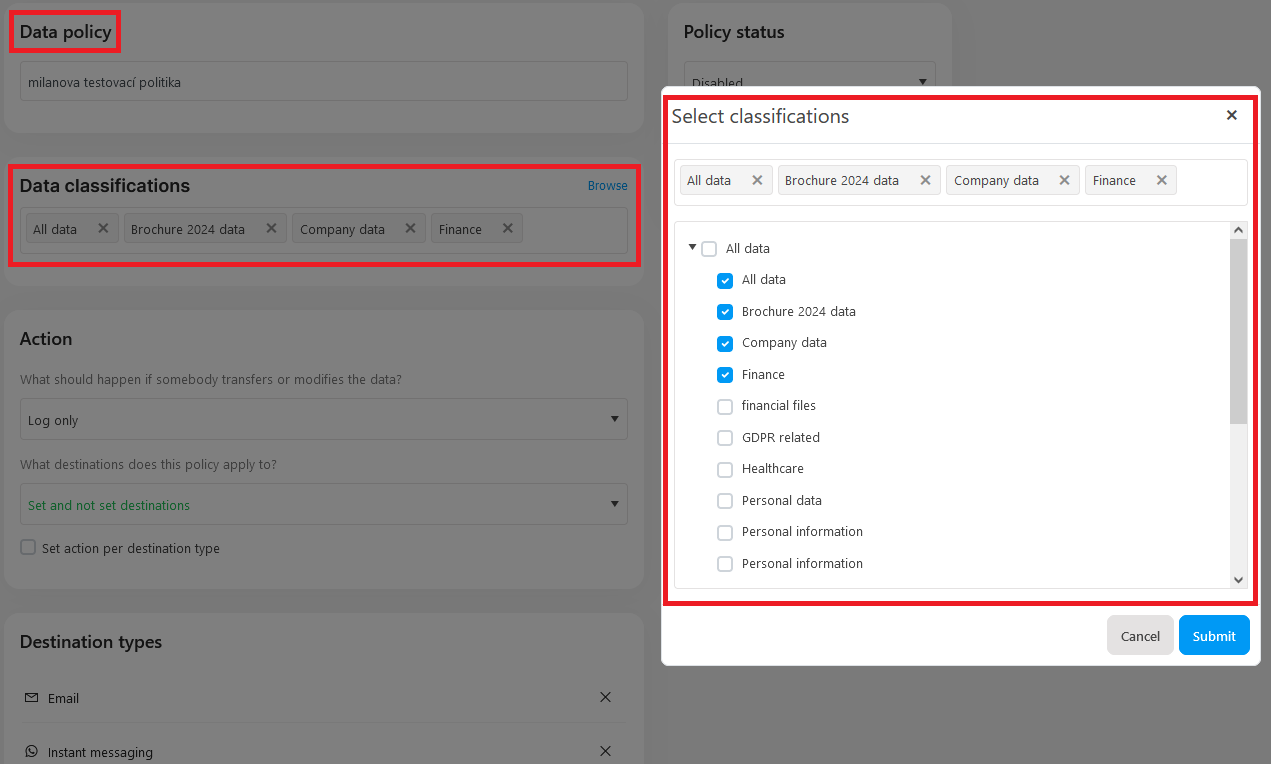 Protection policies support the same destinations and situations for all data types. Exceptions:

A pure file property classification cannot control print, clipboard (including clipboard in RDP), and screen sharing.

The Git destination type is limited to Data policies that target all data (git cannot be used with a specific data classification)

Protection policies are also available for macOS, even though there still may be differences in behavior between Windows and macOS.

Content analysis now has globally defined settings:

File types for which content is analyzed

Whether OCR is enabled and for which languages

Future plans:
Integrate third-party classification into Safetica unified classification.
Bring Safetica unified classification to macOS.
Ensure that classification survives cross-endpoint transfers and transformations (e.g. ZIP compression) regardless of file type.
We will collect and correlate info across endpoints and cloud services enabling visibility and response to advanced threats.
Read next:
Data classification in Safetica ONE 11
Data classification: How to create a new data classification
Policies: How they work in Safetica ONE 11