Learn how to work with records about website visits.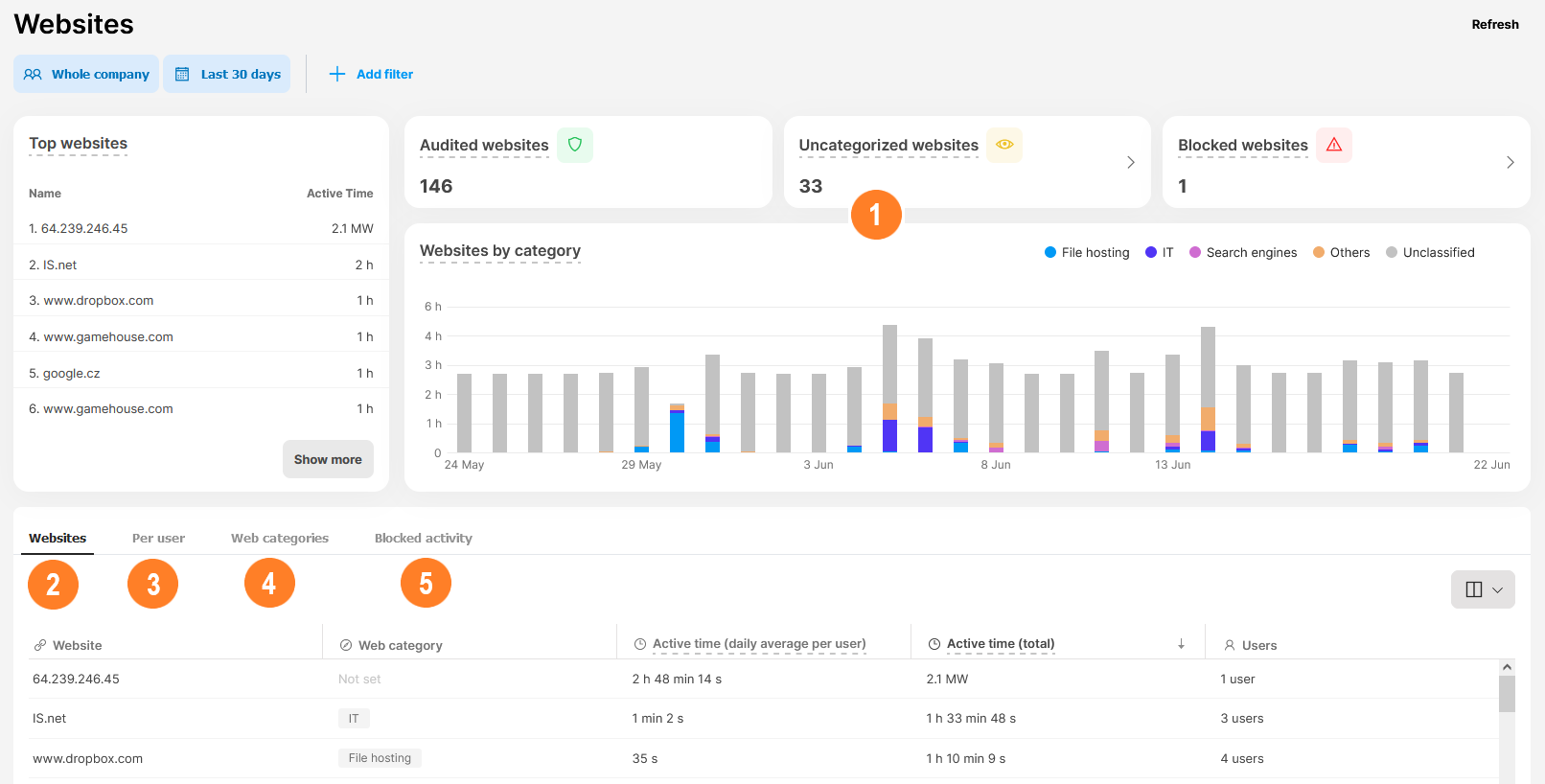 In the Websites section, you can find website-related records from your company. The chart and tiles can be used to filter out interesting info. In the table, there are tabs with pre-prepared grouping for the most useful scenarios.

The chart and tiles allow you to see and filter:
The most popular websites ordered by the total active time users spent on them. Click Show more to see all visited websites ordered by total active time in the table.
The number of unique visited websites

The number of Uncategorized websites. Click the tile to see all uncategorized websites in the table ordered by the total active time users spent in them.
The number of unique blocked websites. Click the tile to see the details of all attempts to visit these blocked websites.
Websites from the three most frequent website categories. Click the individual categories in the chart to filter them out in the table and other tiles.

The Websites tab shows the most popular websites. Click a website to see its details (the most active users on that website, the category of the website, etc.). Learn more about leveraging details in Safetica 11 here.

The
Per user
tab is more focused on users. You can check specific users and see what websites they visited. The values are aggregated, so you only see what each user did generally. You don't see detailed records of when exactly they visited the websites, or how much time they spent there during working hours.
If you want to deep dive into user activities, you will need the Safetica UEBA add-on. In the Behavior > Web activity section, you will see detailed records of when exactly and how much time individual users spent on each website.

In the Web categories tab, you can easily see what website categories are used in your company, whether many users use categories such as Social networks or Sports, etc. Based on that you may decide whether to block some of these categories.

If you decided to block a website via your policies, all the attempts to visit such a website will be recorded in the Blocked activity tab. This way, you will see who was violating the policy and visiting blocked websites. To learn more about policies in Safetica 11, click here.
The Blocked activity tab is only available to customers with Safetica Protection or Safetica Enterprise licenses.
Read next
Policies: How they work in Safetica 11