Safetica ONE 11 is a new generation of Safetica ONE with a streamlined web-based management console offering optimized features and seamless user experience.
In this article, we take a look at the new easy-to-use navigation of Safetica ONE 11. Enjoy a centralized and intuitive interface, where you can easily analyze info from your environment, set protection policies, or manage users and your workspace.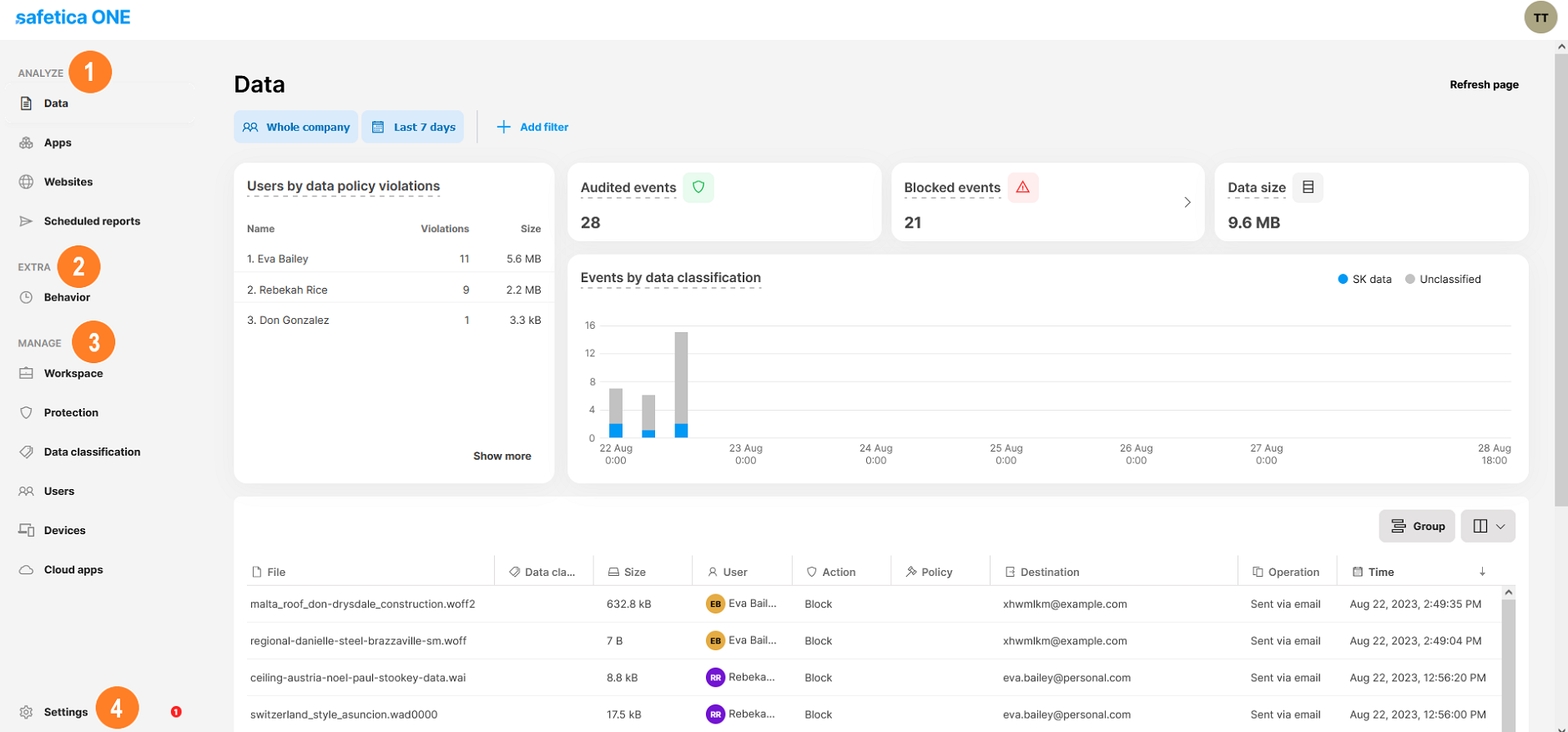 Navigation in Safetica ONE 11 can be divided into 4 sections:

The ANALYZE section brings insight into the full spectrum of security issues that may happen in your environment and helps you better understand your security processes. Information obtained in ANALYZE may help you facilitate the implementation of protection policies.
In Data, you can audit all data-related operations that happened in your company. See what sensitive files leave your protected perimeter and gain vital info to prevent data leaks.
In Apps, you find info about all launched apps and the active time users spent in them. You can see application categories, users working with specific apps, and what app activities were blocked. Find out if expensive applications are used effectively or if anyone uses illegal or dangerous programs.

In Websites, you can find info about the use of websites and the time spent on them. Find out which website activities were blocked, and see if anyone visits dangerous website categories, such as Malware or Pornography.
For macOS: website audit works only for Safari and Chrome browsers.
Scheduled reports enable you to regularly receive insightful multi-page reports to your email. The reports focus on data that leaves your company and the state of Safetica on your devices.

In the EXTRA section, you can see results from your optional extra modules.
In Behavior, you see results from the Safetica UEBA module:

Perform user audit and deepen your overview of dangerous and undesirable user activities to identify hidden security risks and avoid wasting resources.

Find out to what extent company resources are used for work-related purposes.

Get an overview of what applications are used and what websites are visited by specific users.

Gain insight into incoming and outgoing email communication.
For macOS: audit of incoming and outgoing email communication works only for Apple Mail App.

In the
MANAGE
section, you can set up remediation actions and prevent possible data leaks.
In Workspace, you can decide which devices, websites, or email domains are part of the safe company perimeter. Apply different protection policies to destinations based on whether they are unknown, known, or safe.
In Protection, you can protect your data against misuse with the help of protection policies. Set up protection policies for sensitive data, apps, websites, and devices.
For macOS: policies for applications and websites are not yet available, but they are coming soon.
In Data classification, you can classify your data and define what is considered sensitive in your company (e.g. personal information, credit card numbers, outputs of certain applications, etc.). Use data classifications in policies to detect and secure files that contain the defined sensitive info.
For macOS: classification elements related to data origin are not yet available.
In Users, you find an overview of your end users. You can also assign or remove licenses from them.
In Devices, you find an overview of devices used in your company. See whether Safetica is running on all devices without trouble and delete those that are not used anymore. You can also download Safetica installer from here.
In Cloud apps, you can extend the scope of DLP protection from devices to the cloud. You can add your own Microsoft 365 tenant and get a clear picture whenever company email accounts are used for sending data outside the trusted perimeter of your organization.

In Settings, you can set up general product-wide configurations. Easily manage account permissions, server updates, and check how many licenses you have available and when they expire.
Read next:
Features of Safetica ONE 11 for macOS
Data classification in Safetica ONE 11
Policies: How they work in Saftica ONE 11