Manage devices in your environment.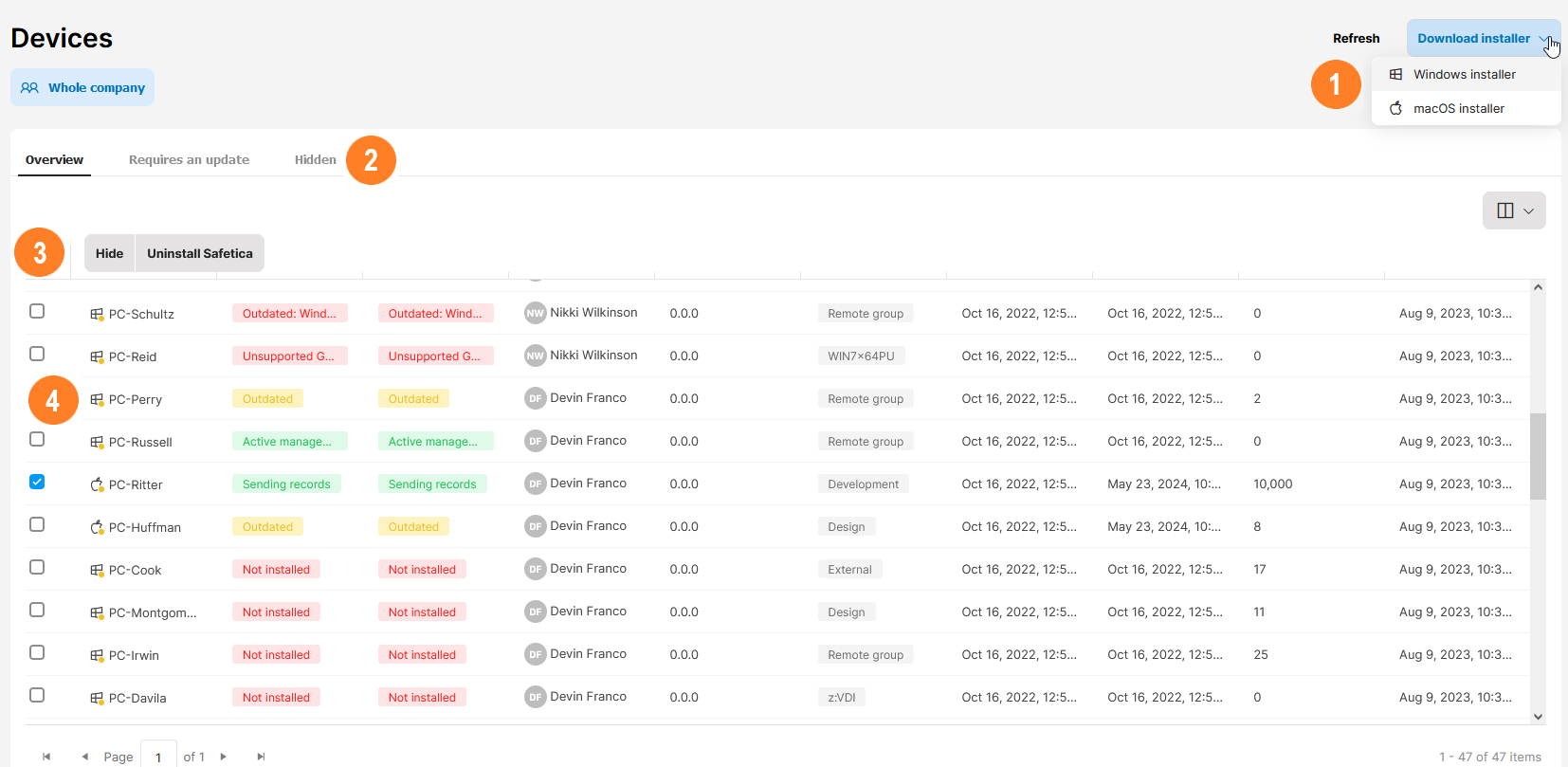 In the Devices section, you can find the list of all the devices in your company. You can see their statuses and select those you want to manage (install, uninstall, or update Safetica on selected devices; restart, delete, or restore selected devices, etc).
You can:

Download the Safetica Client installer for Windows or macOS. Learn more about Safetica Client installation here.
Filter the devices via several tabs:
Overview - lists all devices in your company
Requires an update - highlights devices that require Safetica installation or update. There are only devices in states that are not fine from update perspective (Outdated, Not installed, Waiting for restart, Installing).
Hidden - contains devices that were hidden from the Overview list
Hidden devices are no longer displayed in the user tree, and their records are not visible in any of the Analyze sections.

Select the devices you want to manage via the checkbox, then choose from several management actions. Learn more about managing Safetica on your devices here.

See info about individual devices in the table:
Click a device to see even more details.
Device - see the name of the device and the icon of its operating system. Whether the device is online is measured based on its Last response column and highlighted by a dot:
Green dot – the device is online. It might have been offline for 1-10 minutes.
Yellow dot – the device has been offline for 10 minutes – 3 hours.
Grey dot – the device has been offline for more than 3 hours.
Terminals and servers are not differentiated in any way.
Status - the state the device is in and whether it needs troubleshooting (e.g. some devices are not yet installed, some do not communicate, etc.)

Red highlight - pressing issues, usually related to troubleshooting when the device is not working correctly.
Orange highlight – less-pressing issues, usually related to Safetica being out of date.
Grey highlight - signifies "in progress".
Green highlight - represents correct states that require no attention.

Last signed in - which user last used each device
Teams - the team into which the device belongs
Protection updated - the date and time when protection settings were last updated
Records sent - the date and time when last records were sent from the device
Unsent records - whether there are any records waiting to be sent to the server (i.e. the device may be ok, but I must just wait for records to arrive)
Last response - when the device was last online. Check this column to see whether a device is active
Read next:
Devices: How to manage your devices from Safetica ONE 11 console